Bonded Bead Cavity Wall Insulation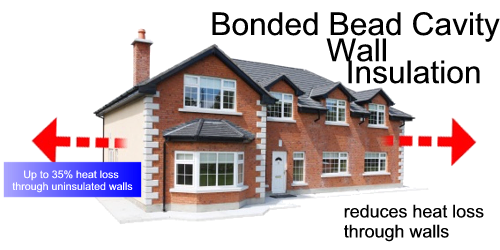 Cavity Wall Insulation for Energy Efficiency
Cavity wall insulation (CWI) is widely regarded as the most efficient method of improving a property's energy efficiency as, without insulation, homes lose up to 35% of their heat through the walls.
Our bonded bead cavity wall insulation meets the highest technical specifications and is fully warranted by all Irish trade associations. Our product offers a complete fill, with no gaps and consistent density across the cavity, ensuring effective heat retention.
Benefits of Bonded Bead Cavity Wall Insulation
Lowers fuel bills - with annual savings of up to €300

Reduces carbon emissions

Our bead product is fire resistant and waterproof

The bonded finish permits water to travel down the cavity - without crossing it - ensuring no damp or thermal bridging

Suitable for installation in all areas including where there is bad weather and heavy rain

Ensures a comfortably warm home all year round and dry inner walls

Fast clean install- all equipment is brought and taken away by installers

Quick installation - the process takes just a couple of hours
Why Cavity Wall Installation
The majority of homes have been built with cavity walls to prevent rainwater penetration causing dampness.
An empty cavity wall allows air movement through the cavity, cooling down the inner walls as outside temperatures drop. Filling the cavity with water repellent bonded beads reduces insulates against this temperature drop, keeping your home warmer.
Watch Our Blown Bead Video
Bonded Bead Installation Process
Pre-Installation
Before installation we conduct an inspection to determine the quality of any existing insulation and ensure the cavity is suitable or clean.
The Installation Process
Drill Holes: we drill holes of 22mm diameter across the wall - using the correct drill pattern in conformance with building regulation guidelines.

Delivering the beads: Our delivery gun is inserted into the drill holes and the Energystore Graphite 27 Plus bead is blown into the cavity along with a liquid adhesive.

Filling the Cavity: The free flowing nature of the bead ensures all gaps are filled while the use of an adhesive ensures the bead sets into a bonded homogenous material.

Finish: all holes are filled and finished.
Contact Us
for cavity wall insulation throughout Munster and Leinster, including counties: Laois, Tipperary, Offaly, Kilkenny, Kildare, Carlow, Westmeath and Dublin, Ireland.