Blown Attic Insulation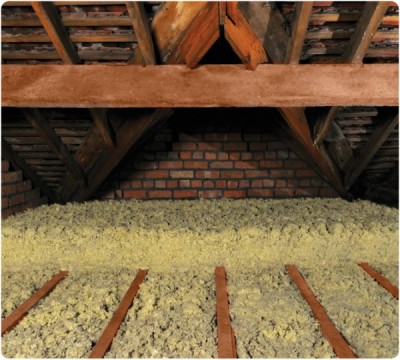 Rockprime Blown Loft Insulation
RockPrime is a mechanically installed Rockwool blown loft granulate that offers quicker installation than roll and causes minimum disturbance. Unlike other loft insulation products, it also minimises thermal bridging.
Advantages of Rockprime Blown Attic Insulation
Suitable for new and existing lofts

Quicker to install than rolls

Ideal for fireproofing and soundproofing

No wastage

Minimises thermal bridging

Non-combustible (Euroclass A1)

No Settlement

Improves the acoustic performance of the ceiling

Does not rot or decay

Not displaced by air movement in the loft

Does not offer sustenance to vermin

Installation by approved Rockwool installers
Features and benefits of Rockprime Blown Attic Insulation
Standards and approvals

Sustainability

Fireproofing performance - non-combustible

Acoustic performance - ideal soundproofing properties

Durability

Compatibility
Standards and approvals
British Standards: BS EN 13162:2001

Thermal insulation products for buildings - Factory made mineral wool products-specification.


RockPrime achieves a Kitemark:

Certificate number KM 33106.
Blown loft insulation can only be installed by qualified approved installers. Always check with Rockwool that a supplier or installer is an approved installer, they will welcome this check. Phone Eire: +353 1 8911 055.
Sustainability
Relying on entrapped air for its thermal properties, Rockwool insulation does not contain (and has nevercontained) gases that have Ozone Depleting Potential (ODP) or Global Warming Potential (GWP). Rockwool therefore complies with the relatively modest threshold of GWP<5 included in documents such as the Code for Sustainable Homes.
Rockwool Ltd is increasingly involved in recycling waste Rockwool material that may be generated during installation or at end of life disposal, and has a recycling scheme that is recognised by WRAP andthe Environment Agency.
We are happy to discuss the individual requirementsof contractors and users considering returningRockwool materials to our factory for recycling.
Fireproofing
RockPrime blown loft insulation achieves an A1 classification in accordance with BS EN 13501-1 and is therefore non-combustible as defined in UK and Ireland building regulations.
Soundproofing
Insulation can improve the acoustic performance, i.e. soundproofing, of a building. 250mm of Rockwool Blown Loft Insulation, with an isolated 12.5mm plasterboard ceiling, achieved > 50dB reduction in a tiled roof construction.
A typical tiled roof construction incorporating a plasterboard ceiling and insulated with RockPrime should achieve and airbourne sound reduction of approximately 31dB.
Durability
Blown Loft Insulation is a durable material. When installed it will not be affected by normal ventilation within the loft space and will remain an effective insulant for the lifetime of the building.
Because of its density, Blown Loft Insulation will not suffer from wind displacement via air movement. Blown Loft Insulation is a completely inert, rot-proof material and does not encourage the growth of fungi, moulds and bacteria or offer sustenance to vermin.
Compatibility
Rockwool will not react with any metal components in the loft, nor will it cause loss of plasticiser from PVC cables and pipes.
Contact Us
for Attic / Loft Insulation throughout Munster and Leinster, including counties: Laois, Tipperary, Offaly, Kilkenny, Kildare, Carlow, Westmeath and Dublin.